"All My Love" is a song by Major Lazer, which features Ariana Grande. The song makes an appearance on official soundtrack for the movie The Hunger Games: Mockingjay Part 1.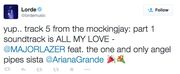 Background and release
The track listing for the Hunger Games soundtrack was confirmed on October 21, 2014. However, the fifth track was left blank with no confirmed artists or title. Lorde comfirmed on Twitter the song. A week later, Ariana held a livestream and told her fans that she did a song for the Hunger Games soundtrack with Lorde and Diplo (Major Lazer).[1] On November 3, 2014, Lorde confirmed the song's title through Twitter to be "All My Love" and said Ariana was a featured artist.
Remix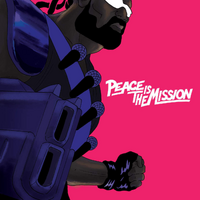 Major Later released a remix of the song to include as the ninth track on his album Peace Is The Mission. It features Ariana and Machel Montano.
Lyrics
[Intro: Ariana Grande & Major Lazer]
Sometimes I think we're the brightest stars
And I try to believe we'll find a way
Will life change, will our hearts turn colder?
(Major Lazer)

[Verse 1: Ariana Grande]
All the rhythms in my heart lift me up and say
We can stay out of the trouble, is it worth the blame?
Is it true that the more you give, the more they take?
All the rhythms in my heart lift me up and say

[Pre-Chorus: Ariana Grande]
Only love will make us ache
Only love is worth the chase
All my love, I know we're waiting for this
On the rocks up on the mountain tops

[Chorus: Ariana Grande]
All my love
All my love
All my love
Up on the mountain top

[Verse 2: Ariana Grande]
All the rhythms in my heart lift me up and say
We're just a mess of broken people but we love the game
I would do anything for us, it's worth the pain
All the rhythms in my heart lift me up and say

[Pre-Chorus: Ariana Grande]
Only love will make us ache
Only love is worth the chase
All my love, I know we're waiting for this
On the rocks up on the mountain tops

[Chorus: Ariana Grande]
All my love
All my love
All my love
Up on the mountain top

[Post-Chorus: Ariana Grande]
All my love
All my love
All my love
Up on the mountain top

[Bridge: Ariana Grande]
You're always on my mind
Oh, there'll come a day
Day where we can fly
Reach the glory haze, oh, hey
High up in the sun in the brighter sky
Sun in the brighter sky

[Pre-Chorus: Ariana Grande]
Only love will make us ache
Only love is worth the chase
All my love, I know we're waiting for this
On the rocks up on the mountain tops

[Chorus: Ariana Grande]
All my love
All my love
All my love
Up on the mountain top

[Outro: Ariana Grande]
All my love
All my love
All my love
Up on the mountain top
[Intro: Machel Montano & Major Lazer]
All ah want, yeah
Only love, ehy
All ah say, yeah
All ah want, yeah
Only love, ehy, yo
(Major Lazer)

[Verse 1: Machel Montano]
Hey DJ, buss de tune and then pull it up
If yo cups empty, fill it up
Spread more love, cuz we can't get enough
Baby girl, just start, wine it up
If the party nah nice, then me nah go
Just jump to the bass and piano
Live like a vacation in Key Largo
Listen the scenario
We doing it larger than life, larger than life
Spread love and then let it fly
Raise the levels higher than high, yeah
And push yo hands in the sky, hands in the sky
Major Lazer, intensify
Raise the levels, higher than high, yeah
So start, turn it up (Turn it up)

[Pre-Chorus: Ariana Grande & Machel Montano]
Only love (Hey) will make us ache (Turn it up (Turn it up))
Only love is worth the chase (Let's turn it up (Turn it up))
All my love (Turn it up), I know we're waiting for this (Start, turn it up (Turn it up))
On the rocks (Hey, hey) up on the mountain tops (Hey)

[Chorus: Machel Montano & Ariana Grande]
So leh we jump and show dem (Show dem), show dem (Show dem)
(All my love)
So leh we jump and show dem (Show dem), show dem (Show dem)
(All my love)
So leh we jump and show dem (Show dem), show dem (Show dem)
(All my love)
So leh we jump and show dem (Show dem), hey
(Up on the moutain top) (The mountain top)
Ariana, let's go

[Verse 2: Ariana Grande & Machel Montano]
All the rhythms in my heart lift me up and say (Yeah (Yeah))
We're just a mess of broken people but we love again
I would do anything for us, it's worth the pain (Hey (Hey))
All the rhythms in my heart lift me up and say (So let's turn it up (Turn it up, turn it up))

[Pre-Chorus: Ariana Grande & Machel Montano]
Only love (Hey, hey) will make us ache (Let's turn it up (Turn it up))
Only love (Hey, hey) is worth the chase (Baby, let's turn it up (Turn it up))
All my love (Hey), I know we're waiting for this (Hey, hey, hey, hey, hey)
On the rocks up on the mountain tops (Ha)

[Chorus: Machel Montano & Ariana Grande]
So leh we jump and show dem (Show dem), show dem (Show dem)
(All my love)
So leh we jump and show dem (Show dem), show dem (Show dem)
(All my love)
So leh we jump and show dem (Show dem), show dem (Show dem)
(All my love)
So leh we jump and show dem (Show dem), hey
(Up on the moutain top)
Oh, hey

[Post-Chorus: Machel Montano & Ariana Grande]
Hey, yeah, yeah
(All my love)
Hey, hey
(All my love)
Hey, hey
(All my love)
Hey
(Up on the mountain top) (The mountain top)
M-M-M-Major Lazer

[Bridge: Ariana Grande & Machel Montano]
You're always on my mind
Oh, there'll come a day
Day where we can fly
Reach the glory haze (Tell dem (Tell dem)), oh, hey
High up in the sun in the brighter sky
Sun in the brighter sky (Hey (Hey, hey))

[Pre-Chorus: Ariana Grande & Machel Montano]
Only love (Hey, hey) will make us ache (Hey, hey)
Only love (Hey, hey, hey, h-h-h-h-hey) is worth the chase
All my love (Hey, hey, hey, hey, hey), I know we're waiting for this
On the rocks (Let's go) up on the mountain tops

[Chorus: Machel Montano & Ariana Grande]
My love is larger than life (Hey), larger than life
(All my love) (Yeah, yeah)
Is larger than life, larger than life
(All my love) (Larger than life)
Larger than life, larger than life (Hey, hey)
(All my love) (Hey, hey, hey)
Is larger than life, larger than life
(Up on the mountain top)

[Outro: Machel Montano & Ariana Grande]
Hey
(Major Lazer)
Hey
(Yeah, yeah)
(All my love)
(Double M)
Hey
(Hey, Ariana Grande)
Hey
(All my love)
(Oh)
Hey
(Oh)
Hey
(All my love)
Hey (yeah), oh
(Up on the mountain top) (The mountain top)

References