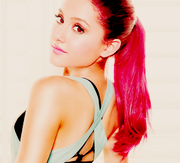 Full name: Ariana Joan Grande-Butera
Birthdate: June 26th, 1993
Eye color: Brown
Star sign: Cancer

She was born in Boca Raton, Florida.
Her natural hair color is brown and it's curly.
She dyed her hair to red velvet for her role Cat in Victorious.
She has a big brother named Frankie. He is also a performer and is on tour with her as one of her dancers.
Her fashion icon is Marilyn Monroe.
Her celebrity crush is Jon Bon Jovi.
Her favorite cereal is Cocoa Puffs.
Her favorite episode of Victorious is "Survival Of The Hottest" and her favorite line is, "What's that supposed to mean?".
She has to make her voice higher to play Cat.

She's allergic to cats (ironically, her character on Victorious loves them).
Her YouTube page is "osnapitzari" (O.Snap.Itz.Ari)
She has a birthmark on her left shoulder/back.
She loves Celine Dion.
She's a huge techno- junky.

She loves swimming.
She used to collect stuffed animals, hockey pucks, and halloween masks.
She uses GarageBand to create remixes of her favorite songs.
She has a MAC computer.
She has a dimple in her left cheek.

Her SayNow number is #646-783-2240.
Her FAN mail address is 265 S. Federal Hwy Suite 331 Deerfield Beach, FL 33441.
She has a LOOP keyboard, and a home studio seen on this video.[1]
Her favorite colors are periwinkle, blue, and coral pink/blue.
She was on Brainsurge,and wore a pink t-shirt, and skinny jeans,and had 130 points, allowing her to move onto thte next round, and being the only girl to compete, but then she lost, along with Carlos (BTR) and was the first one to slide down "The Brain Drain". The episode aired on April 21st 2011.
She is studying Spanish.
She loves Judy Garland and can impersonate her quite well.
She has a talent for mimicking the speaking and singing voices of others, including but not limited to Britney Spears, Shakira, her costar Liz Gillies, a laughing baby, a crying baby and a lamb "baaa-ing".
Her best friend is her co-star Elizabeth Gillies.
Her height is 5'1½" (1.56 m)
She currently lives in L.A. Her house was previously owned by someone involved in the making of The Godfather.
She loves the resteraunt "Toast".