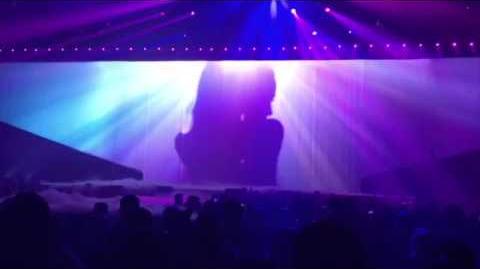 "Intro" is an unreleased song which was intended to be the first song of Ariana Grande's third studio album, Dangerous Woman.
Background
On May 16, 2015, Ariana posted a picture on Instagram with the caption "baby loves, I'm tryna talk to you 💭".[2] Two weeks later, she tweeted more lyrics from the song ("there's a boy and I don't quite know what to do").[3] She confirmed that the lyrics were for the intro song of her upcoming third album, not from the song "Moonlight" as fans thought.[4] However, when Ariana released her album Dangerous Woman, the song did not appear.
Ariana eventually decided to use the song as an interlude on the Dangerous Woman Tour in leading into "Knew Better". It was first played on February 3, 2017, in Phoenix, Arizona.
Lyrics
[Verse]
Baby loves, I'm tryna talk to you
There's a boy
And I don't quite know
What to do

Good things come to those who wait
(To those who wait)
But patience ain't my thing

The way he holds me
Shows me, he's the one
For sure the one

I think I'd rather wait for him forever
Instead of having him just for now
And I just want to look up at the moon
Oh, I wonder if he's looking at it too

And I don't know what to do

References