Sean Michael Leonard Anderson (better known by his stage name Big Sean) is an American recording artist. He is featured in Ariana Grande's third single "Right There" from her debut album Yours Truly.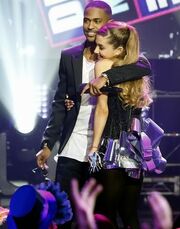 Trivia
Ariana and Big Sean are good friends.
In an interview Ariana has said "[Big Sean and I] wanted to have writing sessions and, like, jam together but we never found the time and we never found the right song," she said. "We were talking about a few other songs together but it just never worked out and it never was the right moment and then finally 'Right There' came along. And we were like 'Oh, this is it'."
Big Sean is one of Ariana's favorite rappers.[1]
Ariana can rap one of his songs called "Guap". She has done this in many different interviews. You can watch her rap the song in this video.
While backstage at the 2013 Billboard Music Awards, she rapped Big Sean's verse in Justin Bieber's song "As Long As You Love Me". You can watch it in this video.
He whispered the verse: "One less problem without you" in the single "Problem" by Ariana Grande's second album.
He also makes a appearance in the video of Problem.
References
Community content is available under
CC-BY-SA
unless otherwise noted.