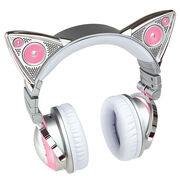 The Brookstone Cat-Ear Headphones are a Cat-shaped headphone.
In 2016, Ariana Grande teamed up with the company Brookstone, using the concept art of artist Wenqing Yan to create the cat ear headphones.
Trivia
The headphones were announced in September 2016 and made available to preorder.[1]
They cost $150.
You can buy them here.
Gallery
Reference