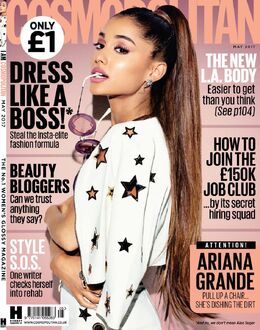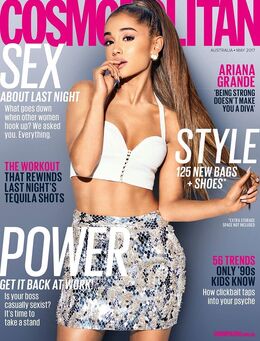 Cosmopolitan is an international magazine for women. It was first published in 1886 in the United States as a family magazine, was later transformed into a literary magazine and eventually became a women's magazine in the late 1960s. Ariana Grande was on the cover of the February 2014 issue of Cosmopolitan and on April 2017.
Quotes
February 2014
"
I think I'm an old soul. What excites younger people doesn't excite me… I'm kind of a boring, normal girl who likes Harry Potter and to sit in her pajamas and sing. A lot of my friends are partiers, but I've never really clicked with that.
"

– Ariana on being a positive role model
"
I don't even block them anymore, because I feel like it's giving them negativity in return. So I just let it happen and forgive them and move on. Those people are fighting their own battles.
"

– Ariana on her Twitter haters
"
We were going back to his hotel to watch a movie, and he had Ladurée macarons and sunflowers waiting—I love Parisian baked goods, and sunflowers are my favorite flower.
"

– Ariana on her first date with Nathan Sykes
April 2017
"
A lot of times, women are labeled as a bitch or a diva for having a vision and being strong and using their voice, and it's just not the case. You can be strong and be friendly. [We] don't have to be just one thing.
"

– Ariana on being strong and having a voice
"
I've never looked at love as something that I need to complete me. I would like to be complete on my own first and fall in love with somebody who is also complete. You can still celebrate and be totally obsessed with each other, but I want to feel a hundred percent myself so that I can love that person better.
"

– Ariana on falling in love
"
I met him when I was 19. We have loved and adored and respected each other since the beginning, since before we even met, just because we were fans of each other's talent. We weren't ready at all, though, to be together. It's just timing
"

– Ariana on her ex-boyfriend, Mac Miller
"
I have the utmost respect for that woman. I love her with every ounce of my being, and not just because I'm obsessed with her entire discography. I'm so inspired by her bravery and her strength. I can look at her and not be scared to be strong.
"

– Ariana on Madonna
Gallery 2014
Gallery 2017
Trivia
On January 17, 2014, Cosmopolitan tweeted, "Do you have an AMAZING photo with your @arianagrande issue? Tag it #CosmoAriana and we'll RT our faves!"
There are 3 different versions of Ariana's Cosmopolitan magazine (April 2017 issue) The UK Version, American Version, and The Australian Version.
Community content is available under
CC-BY-SA
unless otherwise noted.