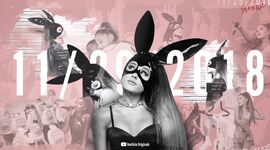 The Ariana Grande: Dangerous Woman Diaries[1] is a four-part YouTube docuseries directed by Alfredo Flores.[2] It stars Ariana Grande and focuses on her 2017 Dangerous Woman Tour.
The series also features exclusive behind the scenes footage of Grande in the studio with Pharrell Williams, on set shooting the music videos for "The Light Is Coming" and "God Is A Woman" and rehearsing for her 2018 MTV Video Music Awards performance.
Background
In 2017 Grande embarked to the Dangerous Woman Tour, concert tour in support of her third album Dangerous Woman (2016). The tour began on February 3, 2017 in Phoenix, Arizona and ended on September 21, 2017 in Hong Kong.
It was rumored initially that there was going to be a documentary film of the Dangerous Woman Tour.[3][4] The rumors began after Grande insinuated that there was a lot of footage of the tour. On November 14, 2017, she posted a video of Alfredo Flores on his MacBook editing a video, with the caption "dwt ♡".[4] In July 2018, Grande confirmed that it would be a docuseries.[5][6]
Release
A trailer for the series was uploaded on Grande's channel on November 28, 2018.[7] A new episode will be released every Thursday and will be free to watch. For YouTube Premium subscribers, the entire series was available on November 29, 2018.[8]
Episodes
No.

Title
Release date
Length
1
"the light is coming"
November 29, 2018
27:04
2
"Here's The Gag"
Premium: November 29, 2018
Free: December 6, 2018
30:33
3
"Grateful"
Premium: November 29, 2018
Free: December 13, 2018
37:43
4
"One Love"
Premium: November 29, 2018
Free: December 20, 2018
37:54
References
Community content is available under
CC-BY-SA
unless otherwise noted.