Line 128:
Line 128:
 

<li>"[[Thinking Bout You]]"</li>

 

<li>"[[Thinking Bout You]]"</li>

 

<li>"[[Somewhere Over The Rainbow]]" </li>

 

<li>"[[Somewhere Over The Rainbow]]" </li>

−

<li>"be my baby"</li>

 
 

<li>"[[Problem]]" </li>

 

<li>"[[Problem]]" </li>

 

<li>"[[Into You]]"</li>

 

<li>"[[Into You]]"</li>
---
Revision as of 10:35, 18 August 2019
The Dangerous Woman Tour was Ariana Grande's third concert tour in support of her third studio album Dangerous Woman, which was released on May 20, 2016.
Background
On July 7, 2016, Grande replied to a Twitter post that she's working on the tour dates.[1] On July 31, Grande replied to a Twitter post that she will likely to announce the tour dates at the end of August.[2] The two opening acts were announced to be Little Mix and Victoria Monét.
The DW Tour Instagram account was created at the end of October 2016 to document the tour. Rehearsals fully began after the completion of Hairspray Live! in December and throughout January. Grande worked with Alfredo Flores, Hannah Lux Davis, and Jones Crow to create visuals for the tour.[3][4][5]
On February 27, 2017, Live Nation announced that BIA will be joining the tour as the opening act for the UK dates during the European leg of the tour. She is also opening in Scandinavia and Amsterdam.[6]
Trivia
Grande changed her hairstyle throughout the tour. She had her normal ponytail in various shows, her buns in a few others, and she wore her bangs for the last time in Tulsa.
When the first leg finished, Grande post a gratitude on Instagram.[7] One day later, the hashtag "#ThankYouAriana" was trending topic on Twitter.
Mac Miller came to several of the shows, and performed "The Way" and "Dang!" on stage.
In Manchester, England (May 22, 2017; second leg) all people were evacuated from the show, due to reports of an explosion inside of the arena.[8][9][10][11] (see 2017 Manchester Arena Bombing)

Initially, people thought it was gas balloons or a speaker exploding, but on May 23 it was confirmed that it was a bomb.
Ariana did a benefit concert, One Love Manchester where many singers performed.

On August 24, 2017, Grande posted on Instagram the first minute of the visual used in "Be Alright".

Hannah Lux Davis directed the visual as throughout the whole Dangerous Woman Tour.

On September 17, Lady Cultura was fired after using a racial slur[12]
Grande and Flores worked together and created a YouTube Docuseries titled The Dangerous Woman Diaries that was released on November 29, 2018 which acts as the concert film for the Dangerous Woman Tour and contains behind the scenes footage of the Dangerous Woman Tour and her fourth studio album, Sweetener.
Setlist
In her interview with Ryan Seacrest, Grande said that she would perform every song from Dangerous Woman. She said she would also sing some old songs as well as covers.[13] She also expressed her desire to perform "Focus"[14] (although she did end up doing this) and to extend "Knew Better" for the tour.[15] She expressed wanting to use the Mi.Mu Gloves on the tour originally[16] but eventually decided not to use them on tour.
Opening acts
Little Mix
Victoria Monét
"New Love"
"Freak"
"Made In China"
"More Of You"
"Better Days" (Solo version)
"Ready"
"That's What I Like" (cover)
"Bad And Boujee" (dancing)
"High Luv"
"Do You Like It"
BIA
Note: BIA opened in place of Little Mix on February 19 and 21.
"All Around The World"
"Whip It"
"Gucci Comin Home"
"Safari"
"Esta Noche" (Solo version) (only 21 Feb.)
Sabrina Carpenter
"Feels Like Loneliness"
"No Words"
"Hands"
"Wildside"
"All We Have Is Love"
"Eyes Wide Open"
"Thumbs"
Oriana Sabatini
"Love Me Down Easy"
CNCO
"Reggaeton Lento"
Ariana Grande
Set 1: Intro
Interlude: Ariana with Brian and Scott Nicholson and a 10 minute countdown
Set 2
Interlude: Unreleased song from Dangerous Woman
Set 3
Interlude: Female video
Band interlude: Ending of I Don't Care
Set 4
Set 5: Encore
Interchangeable slot
Gallery
"Love how my face fits so good in your neck"
To view the
Dangerous Woman Tour
gallery, click
here
.
Videos
Tour dates
The tour dates for the first leg were released on Dangerous Woman site after her guesting on The Tonight Show with Jimmy Fallon on September 8, 2016. The European leg was released on October 20, 2016. The Brazilian leg was released on April 3, 2017.
Cancelled dates
List of cancelled concerts, showing date, city, country, venue, and reason for cancellation
Date
City
Country
Venue
Reason/Additional Info
May 25, 2017[17]
London
England
O2 Arena
Manchester Arena bombing
May 26, 2017[17]
May 28, 2017[17]
Antwerp
Belgium
Sportpaleis
May 31, 2017[17]
Lodz
Poland
Atlas Arena
June 1, 2017[17]
June 3, 2017[17]
Frankfurt
Germany
Festhalle
June 5, 2017[17]
Zurich
Switzerland
Hallenstadion
July 18, 2017
Monterrey

guadalajara

Mexico
Arena Monterrey
Unknown
July 19, 2017
August 23, 2017
Ho Chi Minh City
Vietnam
Quân khu 7 Stadium
Sickness[18]
Personnel
Performers
Little Mix (Opening act, first leg)
Victoria Monét (Opening act)
BIA (Opening act)
Sabrina Carpenter (Opening act, third leg for 2 dates)
Oriana Sabatini (Opening act, third leg for a date)
CNCO (Opening act, third leg for a date)
Jason Robert Brown (Interchangeable, a date)
Mac Miller (Interchangeable, 2 dates)
KnowleDJ
DJ Ronaldinho
Échele Miel
Fátima Pinto
Beverly
Little Glee Monster
Dancers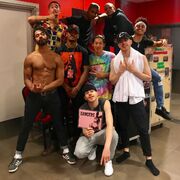 Jose "Boy Boi" Tena
Devyck Bull
Kristopher Terry
Jason Glover
Max Pham Nguyen
Cory Graves
Matt Peacock
Lady Cultura (fired on September 17)
Technical
External links
References