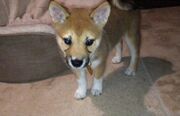 Fawkes was Ariana Grande's fourth dog adopted. She is no longer Ariana's dog and doesn't live with her.
Information
Fawkes is a Shiba Inu.
Ariana adopted Fawkes while she was in Florida in July 2014.[1]
Her full name is Fawkes Kitty.[2]
Fawkes is sweet, daring, brave, fierce, and a diva.
Ariana posted a video of Fawkes playing with a ball.[4]
In July 2015, Ariana's brother Frankie confirmed that Fawkes no longer lives with Ariana because she wasn't getting along with the other dogs.[5]
In a Snapchat video, Ariana confirmed Fawkes lives with a friend of theirs because Fawkes wasn't getting along with the other dogs and she would get to see Fawkes soon.
Gallery
"Love how my face fits so good in your neck"
To view the
Fawkes
gallery, click
here
.
References