Frank Anthony Grande (October 23, 1923 - July 22, 2014) was an Italian-American retired soldier. He was also Marjorie's husband, Judy & Joan's dad and Lani, Frankie & Ariana's grandpa. Ariana loved him very much and posted pictures of him often, usually of her kissing him on his cheek.
He passed away on July 22, 2014 after a long battle with cancer, aged 90.
His daughter is Joan Grande. He first met Ariana's grandmother when they were children because they lived in the same neighborhood. When they got older they started to date. Frank was enlisted in the military, and when he got back they got engaged and later married.[1] They got married on September 21, 1946.[2][3] He lived in Ariana's hometown, Boca Raton.
Relationship with Ariana
Edit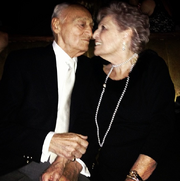 "Love how my face fits so good in your neck"
To view the
Frank Grande
gallery, click
here
.
References
Edit
Community content is available under
CC-BY-SA
unless otherwise noted.