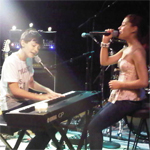 Greyson Michael Chance (born August 16, 1997) is an American pop rock singer, songwriter and pianist whose April 2010 performance of Lady Gaga's "Paparazzi" at a sixth-grade music festival became a hit on YouTube, gaining over 50 million views as of May 11, 2013. He is a good friend of Ariana Grande.
Ariana starred in the music video for "Unfriend You" as Greyson's ex-girlfriend.
Greyson attended Ariana's 18th birthday party and performed "Unfriend You" with her as well as two solo songs.
Greyson and Ariana were both together in the premiere of Harry Potter and the Deathly Hallows, Part 2.
Ariana tried to phone-call prank Greyson, but failed.[1]
Greyson tweeted that he missed Ariana.[2]
Greyson tweeted that he bought Ariana's single called "Put Your Hearts Up" on iTunes.[3] Ariana responded saying, "You're the sweetest! So thankful for having a friend like you!".[4]
Both Ariana and Greyson tweeted that they would be in the studio together. Greyson added that he couldn't wait to see his "little redhead" again.[5][6]
Ariana tweeted that she loves Greyson.[7]
Greyson posted on his official Tumblr account that he and Ariana collaborated on a song and also wrote it together.[8]
External links
Edit
References
Edit
Community content is available under
CC-BY-SA
unless otherwise noted.