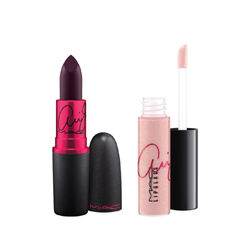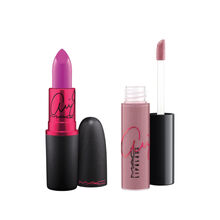 MAC Cosmetics is a makeup company founded in 1984. They have a line of lip products called "Viva Glam" which donates all of its proceeds to help people living with HIV/AIDS. Ariana Grande was the face of the 2016 Viva Glam campaign.
2016 Viva Glam
Every year, MAC choose a celebrity to create their own lipstick. All funds from their sales, go to a charity called MAC AIDS Fund. In August 2015, Ariana was asked to be the 2016 face of Viva Glam, replacing Miley Cyrus. In October 2015, it was announced to the whole public that Ariana would be the new face of Viva Glam. On January 14, 2016, Ariana released her Viva Glam in the U.S and Canada, and a few days later, it was released worldwide. Ariana appeared on Jimmy Kimmel Live! to promote the new cosmetics.
There were two products that Ariana and MAC collaborated on. The first was a very dark plum lipstick ("to represent the bad girl in you") and a sheer pink lipgloss ("to represent your good girl side").
On May 21, 2016, Ariana confirmed that she and MAC were collaborating on more lip products for the Viva Glam line. In June 2016, the new products were revealed, along with a new photo shoot for the campaign. The new line included a matte pink lipstick and a nude sparkly gloss. The photo shoot featured Ariana adorned in pink clothing inside a dollhouse-looking scene.
Gallery
"Love how my face fits so good in your neck"
To view the
MAC Viva Glam 2016
gallery, click
here
.