"
I met him when I was 19. We have loved and adored and respected each other since the beginning, since before we even met, just because we were fans of each other's talent. We weren't ready at all, though, to be together. It's just timing.
"

– Ariana talking to Cosmopolitan on Mac.[1]
Mac Miller (born: Malcolm James McCormick; January 19, 1992) is a Jewish-American/Irish-American rapper. He has worked professionally with Ariana Grande multiple times, most notably as a featured artist on "The Way". Ariana and Mac have been close friends for years and began dating in August 2016.
Early life
Mac was born on January 12, 1992 in Pittsburgh to Karen McCormick (born: Karen Meyers) & Mark McCormick.
Relationship with Ariana
2012-2015
Ariana and Mac met in the second half of 2012 when she was 19. In an interview with Cosmopolitan, Ariana said they were fans of each other's music and talent before they met. They become good friends and recorded a cover of "Baby It's Cold Outside" in December 2012 which Ariana posted on her YouTube channel.
The following year in March, Ariana released her debut single titled "The Way". Mac was featured in the song and rapped one verse. In an interview, Ariana detailed that they baked cookies while they recorded the song.[2] Ariana said she wanted Mac to be on the song as soon as she heard it. At the end of the music video for the song, Mac and Ariana kiss. This caused a lot of speculation of a romantic relationship between the two. Even more rumors circulated when Ariana and her boyfriend Jai broke up briefly after the song was released. Ariana denied all of this saying that the kiss was directed and that she and Mac were just friends. In April 2013, Mac said of Ariana, "Well [Ariana is] a very, very talented singer, like she can sing incredibly. And, that's awesome and she's a great person. She's one of the nicest just people I've ever met in my life."[3] On September 2013, Ariana said in an interview with Hot 97 that Mac is one of her "best friends in the world, like in the whole world".[4] Throughout 2013, Mac would appear sometimes during Ariana's live performances for "The Way".
During the next two years, Ariana and Mac did not collaborate and were not seen out together very often. It is assumed they still kept in touch.
2016-present
On July 15, 2016, (a few days after her breakup with Ricky Alvarez) Ariana went to Disneyland with Mac and Victoria Monet.[5] In the same week, they went out with some more friends to play Pokemon Go.[6] In early August, a remix of "Into You" was released with an added verse by Mac Miller.[7] Mac performed "The Way" with Ariana again at the Hot 100 Music Festival on August 20.[8]
On August 21, 2016, Ariana and Miller were spotted kissing after going to a sushi restaurant.[9] This was the first confirmation of a romantic relationship. Ariana and Mac were seen walking out of a tattoo parlor together on August 26. Ariana is featured on the third single off The Divine Feminine, "My Favorite Part". Ariana also recorded an intro for the album on the first track, "Congratulations" featuring Bilal.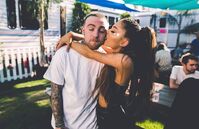 Some time in 2016, Ariana filmed a music video for "Dang" by Mac Miller, but it was never released and only a short snippet of the two in the video was leaked. During a Q&A, Ariana confessed that she recorded a new song with Mac Miller. On April 1, 2017 Mac Miller joined Ariana on stage at Dangerous Woman Tour and they performed "The Way". Later in April Ariana and Mac went to Coachella together.
Mac offered to cancel the rest of his tour so that he could spend time with Ariana after the Manchester attack.
Trivia
Mac's Jewish-American on Karen's side & Irish-American on Mark's side.
Gallery
"Love how my face fits so good in your neck"
To view the
Mac Miller
gallery, click
here
.
References
Community content is available under
CC-BY-SA
unless otherwise noted.