"My Everything" is the twelfth and the last track of the standard version of Ariana Grande's sophomore album, My Everything. Ariana released a preview of the song on March 17, 2014 during a live stream.[1]
Trivia
Ariana posted on her Facebook account in late February, "I think I want to name the album after 1 of the songs I finished this weekend. It makes me cry! it's very special & honest."[2]

"My Everything" is the title track of the album.

This song is about Jai Brooks.
Isaac Calpito tweeted the lyrics "Pain is just a consequence of love." on March 17, 2014.[3]
On August 15, 2014 Ariana posted a short video of her singing "My Everything" while rehearsing for a concert.[4]
Ariana dedicated this song to her Grandpa who passed away, whilst on The Honeymoon Tour.
Ariana performed the song with a Manchester school-choir at her One Love Manchester concert on June 4th, 2017 in memory of the victims of the 2017 Manchester Arena bombing.
Lyrics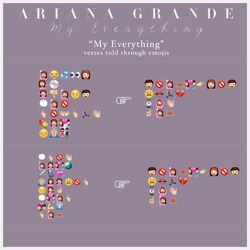 [Verse 1]
I've cried enough tears to see my own reflection in them
And then it was clear
I can't deny, I really miss him
To think that I was wrong
I guess you don't know what you got 'til it's gone
Pain is just a consequence of love
I'm saying sorry for the sake of us

[Chorus]
He wasn't my everything 'til we were nothing
And it's taking me a lot to say
Now that he's gone, my heart is missing something
So it's time I push my pride away
Cause you are, you are
You are my everything
You are, you are
You are my everything

[Verse 2]
I know you're not far, but I still can't handle all the distance
You're travelling with my heart
I hope this is a temporary feeling
Cause it's too much to bear without you
And I know sorry ain't the cure
If I cross your mind, just know I'm yours
Cause what we got is worth fighting for
Cause you are

[Chorus]
You are my everything 'til we were nothing
And it's taking me a lot to say
Now that you're gone, my heart is missing something
So it's time I push my pride away
Cause you are, you are
You are my everything
You are, you are
You are my everything

[Outro]
You are, you are, you are
You are, you are
You are my everything
References