"
That's what Nicki Minaj does, she elevates a record. If you're going to have a rapper on a song, they need to really really really be there for a reason, and she does that every single time.
"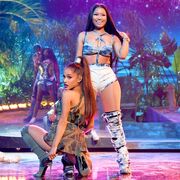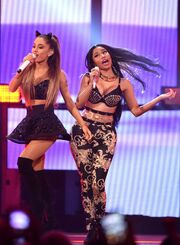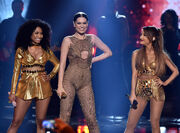 Onika Tanya Maraj (born December 8, 1982), better known by her stage name Nicki Minaj, is a Trinidadian-born American rapper, singer, songwriter, actress and model. Nicki and Ariana Grande have collaborated on a total of six songs, the latest being "Bad To You" from the soundtrack to Charlie's Angels, and the most popular being Side To Side. Minaj is great friends with Grande.
Friendship
Minaj and Grande met for the first time at the Grammy Awards on February 13, 2011.[2]
Grande covered Minaj's song "I Get Crazy" on a livestream in 2012.
During the 2014 MTV Video Music Awards, Minaj participated in the opening performance, performing her song "Anaconda" as well as "Bang Bang" with Grande and Jessie J.
They performed "Bang Bang" again at the 2014 iHeartRadio Music Festival.[3]
When a fan asked about her relationship with Grande, Minaj said that she sees her as her "lil' sis".
On March 14, 2015, Minaj posted a picture on Instagram and the caption was the lyrics to Grande's song "Intro."[4]
In an interview with Cosmopolitan, Nicki said that she is in love with Grande's album, My Everything (2014).
Grande said in an interview that she "started freaking out" when she found out that Minaj would be on "Bang Bang".
Grande said that she loves working with Minaj because she is a strong woman in an interview with Jojo Wright.
Minaj tweeted saying she is never disappointed with her collaborations with Grande.
Grande tweeted that she was counting down the days until she got to see Minaj again.
When Grande rapped Minaj's verse in "Side To Side" on The Tonight Show, Minaj tweeted her approval.
Grande and Minaj performed "Side To Side" together on November 20, 2016, at the American Music Awards where Minaj also performed "Do You Mind" with DJ Khaled; They had previously performed the song on August 28, 2016 at the 2016 MTV Video Music Awards.
Grande posted a picture of the cover for Minaj's single "Regret In Your Tears" with the caption '♡ ♡ ♡ @nickiminaj ♡ ♡ ♡ ♡ ♡ ♡ ♡ ♡ ♡ ♡ ♡ ♡ ♡'[5]
When paparazzi asked Minaj to comment on the events in Manchester, she said "Ariana is my sister, I love her, and I love the people of the UK, and I'm devastated by the news; it's heartbreaking".
On April 12, 2018, Grande posted a Instagram story listening to Minaj's song "Chun-Li" and wrote "Missed Ya Sis".
On May 12, 2018, Grande tweeted "i love my big sis @nickiminaj so fuckin much" and "remember when u called me at 5am and said get ur ass up n come to the stu btch and i propelled myself out the door at the speed of light wearing slippers that later got soaked in rain and we had the best morning of my life i do" confirming that they were in the studio together.
On May 12, 2018, Grande posted a boomerang of her in the studio with Minaj.[6]
On May 27, 2018, Grande posted a 21-second snippet of "The Light Is Coming".
On June 9, 2018, Grande and Minaj posted a video on Twitter of both saying "eat my ass".[7]
Minaj mentions Grande and her song "Thank U, Next" on her 2019 freestyle "Bust Down Barbiana" with the lyric "Killin' everybody beat, thank u, next, Ariana".[8]
On April 14, 2019, while Grande headlined Coachella Valley Music and Arts Festival weekend 1, Minaj was one of the guest performers, they performed "Side To Side" and "Bang Bang".
Grande gifted Minaj gorgeous gifts for her son's birth.[9]
Collaborations
Gallery
"Love how my face fits so good in your neck"
To view the
Nicki Minaj
gallery, click
here
.
References