"No Tears Left To Cry" is the lead single from Ariana Grande's upcoming fourth studio album, Sweetener.[2][3] It was released on April 20, 2018, through Republic Records.
The song has reached number three on the US Billboard Hot 100[4] and number two on the UK Singles Chart, as well as reaching number one on iTunes in 90 countries, including in the United States, surpassing Grande's previous record of 79 countries with "Problem".[5]
Background
On April 9, 2018, it was reported that Grande was set to release the lead single from her upcoming fourth studio album on April 27, 2018.[6] On April 16, 2018, it was reported that she may move up the lead single release to April 20, 2018, due to labelmate Post Malone's album being released on April 27.[7] On April 17, 2018, Grande announced that the lead single was titled "No Tears Left To Cry" and would be released on April 20, 2018.[2] On April 18, Grande slowly shared the cover on Instagram, posting different sections each time, and also posted a 30-second snippet of the song. Grande hosted a listening party in London earlier in the week.[8]
It impacted hot adult contemporary radio on April 23, and impacted contemporary hit and contemporary rhythmic radio on April 24.[9]
Critical reception
Laura Snapes of The Guardian called the song an "instant earworm", and praised Ariana for tackling "the single alone rather than with a guest, as she often does". Snapes also complimented on the inclusion of "some satisfyingly specific lyrical barbs" aimed at the haters.[10] Andrew Unterberger from Billboard stated 'No Tears Left to Cry' as "a grower, not to be fully appreciated on first listen".[11] Chris Willman of Variety described the song as "the breeziest, most danceable kind of post-traumatic recovery anthem with dark undertones".[12] Writing for MTV News, Charlie Holmes regarded the song as "the anthem we needed", and believed that it "[spoke] to her experience, healing her hurt, while simultaneously doing the same for the world".[13] Daniel Welsh of HuffPost called the song "[e]xciting, emotional and unlike anything she's done before", with the message of it being "about picking yourself up, leaving the darkness behind and dancing into the light".[14] Ryan Reed of Rolling Stone wrote that "Grande celebrates rising above the world's negativity" with "positive vibes on [the] upbeat new song".[15]
Cover art
The official cover was revealed on April 18, 2018, after Ariana uploaded parts of the cover on Instagram.[16][17]
Live performances
Grande performed the song for the first time on April 20, 2018, at Coachella, during Kygo's set.[18] On May 1, 2018, Grande gave her first televised performance of the song on The Tonight Show Starring Jimmy Fallon.[19] It was also performed at Youtube Brandcast 2018 on May 3, 2018.[20] On May 20, 2018, Grande opened the 2018 Billboard Music Awards with a performance of "No Tears Left to Cry".[21]
Music video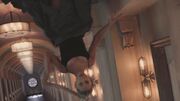 On April 19, 2018, Grande posted a preview of the music video and revealed that it would be released alongside the single on April 20.[22].
The music video was directed by Dave Meyers, who directed the music video for Beauty and the Beast. He has directed videos for other artists, including Katy Perry, Camila Cabello and Kendrick Lamar. He posted a picture with the caption "ʎɹɔ oʇ ʇɟǝl sɹɐǝʇ ou" to Instagram on April 17, 2018.[23] Shanté Honeycutt of Billboard called it "a beautiful, mind-bending video" and quoted Meyers as follows: "The concept we wanted to explore was the disorientation that you go through in life and the quest we all go through to kind of find the ground again."
Behind the scenes
Three behind-the-scenes videos were released on April 23, April 27 and May 25, 2018, respectively.[24][25]
Vertical video
On May 4, 2018, a vertical video of "No Tears Left to Cry" was released exclusively for Spotify's premium subscribers. The video sees Grande singing the single upside down.[26][27]
Trivia
At the end of the video, a bee is seen flying away, a reference to the Manchester Arena bombing.
In the video, during the scene where Grande takes her face off, a piece of paper titled "Track List" can be seen.
The music video reached over 16 million views in its first 24 hours, breaking Grande's previous record of 7 million with "Focus".
The music video was choreographed by Brian and Scott Nicholson.[28]
Ariana confirmed that the second verse is about her gay fans who have come out to her during meet and greets
Videos
Gallery
"Love how my face fits so good in your neck"
To view the
No Tears Left To Cry
gallery, click
here
.
Photoshoot
Promotional
Lyrics
[Intro]
Right now, I'm in a state of mind
I wanna be in, like, all the time
Ain't got no tears left to cry
So I'm pickin' it up, pickin' it up
I'm lovin', I'm livin', I'm pickin' it up
I'm pickin' it up, pickin' it up
I'm lovin', I'm livin', I'm pickin' it up (oh, yeah)

[Refrain]
I'm pickin' it up (yeah), pickin' it up (yeah)
Lovin', I'm livin', so we turnin' it up
Yeah, we turnin' it up

[Verse 1]
Ain't got no tears in my body
I ran out, but boy, I like it, I like it, I like it
Don't matter how, what, when, who tries it
We're out here vibin', we vibin', we vibin'

[Pre-Chorus]
Comin' out
Even when it's rainin' down (can't stop now)
Can't stop so shut your mouth (shut your mouth)
And if you don't know then now you know it, babe
Know it, babe, yeah

[Chorus]
Right now, I'm in a state of mind
I wanna be in, like, all the time
Ain't got no tears left to cry
So I'm pickin' it up, pickin' it up (oh yeah)
I'm lovin', I'm livin', I'm pickin' it up
Oh, I just want you to come with me
We on another mentality
Ain't got no tears left to cry (to cry)
So I'm pickin' it up, pickin' it up (oh yeah)
I'm lovin', I'm livin', I'm pickin' it up

[Refrain]
Pickin' it up (yeah), pickin' it up (yeah)
I'm lovin', I'm livin', so we turnin' up (we turnin' it up)
Yeah, we turnin' it up

[Verse 2]
They point out the colors in you, I see 'em too
And, boy, I like 'em, I like 'em, I like 'em
We way too fly to partake in all this hate
We're out here vibin', we vibin', we vibin'

[Pre-Chorus]
Comin' out
Even when it's rainin' down (can't stop now)
Can't stop so shut your mouth (shut your mouth)
And if you don't know then now you know it, babe
Know it, babe, yeah

[Chorus]
Right now, I'm in a state of mind
I wanna be in, like, all the time
Ain't got no tears left to cry
So I'm pickin' it up, pickin' it up (oh yeah)
I'm lovin', I'm livin', I'm pickin' it up
Oh, I just want you to come with me
We on another mentality
Ain't got no tears left to cry (to cry)
So I'm pickin' it up, pickin' it up (oh yeah)
I'm lovin', I'm livin', I'm pickin' it up

[Pre-Chorus]
Comin' out, even when it's rainin' down
Can't stop now (hmm, oh), shut your mouth
Ain't got no tears left to cry
Oh yeah, oh yeah

[Chorus]
Oh, I just want you to come with me
We on another mentality
Ain't got no tears left to cry (cry)
So I'm pickin' it up, pickin' it up (oh yeah)
I'm lovin', I'm livin', I'm pickin' it up

[Refrain]
Pickin' it up, pickin' it up
Lovin', I'm livin', so we turnin' up
Yeah, we turnin' it up
References