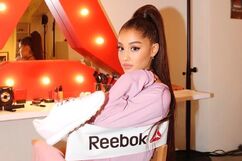 Reebok is a global athletic footwear and apparel company, operating as a subsidiary of Adidas.
Partnership with Ariana
On September 13, 2017, Reebok announced their collaboration with Ariana Grande.[1][2] Ariana had a launch party with her friends Brian Nicholson and Scott Nicholson.[3] As of March 22, 2018 she has generated $35M for the company. Music video for Grande's upcoming song, "The Light Is Coming", will be premiered on Reebok on June 20, 2018.[4]
Gallery
References