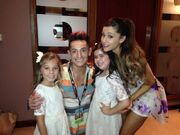 Sam & Cat is an American teen sitcom that premiered June 8, 2013, on Nickelodeon. It is a crossover spin-off of both iCarly and Victorious, starring Jennette McCurdy as Sam Puckett (from iCarly) and Ariana Grande as Cat Valentine (from Victorious). The series is based on both these girls as they buddy up as roommates and start a babysitting business to fund their adventures, the series was renewed for a second season on March 13th, 2014, but on March 31st, 2014 it was announced that an official decision on a renewal had yet to be decided. On July 14, 2014, Nickelodeon confirmed that Sam & Cat was canceled and the four last remaining episodes would not air. Grande wrote about the show's cancellation on TwitLonger. [1]
Sam Puckett and Cat Valentine become best friends and roommates after a dangerous encounter in a garbage truck despite their different appearances. Sam is feisty, wild and a somewhat negative person while Cat is a bubbly, erratic, happy and somewhat ditzy girl. Soon they team up to start a babysitting business because they figure out that freedom, fun, and adventures don't come for free, and it is not cheap.[2]
Main cast
Edit
Recurring cast
Edit
Sam & Cat was picked up by Nickelodeon. They bought 20 episodes and began production in January 2013.[3]
On July 11, 2013, Nickelodeon doubled the episodes, taking 20 episodes up to 40 episodes.
The iCarly and Victorious characters previously met in the iCarly episode, iParty with Victorious and Freddie appeared in a couple of Victorious episodes, yet they don't recognize each other in this show. It is also said that Sam and Cat may be non-canon, but this has yet to be confirmed.
All episodes of Sam & Cat start with a hashtag.
The series started very shortly after Victorious stopped airing.
Characters from Victorious and iCarly have appeared on Sam & Cat, such as Jade West, Robbie Shapiro, Freddie Benson, Erwin Sikowitz, Marissa Benson, Melanie Puckett, Nevel Papperman, Gibby Gibson and Nora Dershlit.
References
Edit
Community content is available under
CC-BY-SA
unless otherwise noted.