"Sweetener" (stylized in all lower case) is the sixth and title track from Ariana Grande's fourth studio album with the same name. It was released through Republic Records on August 17, 2018.
The song was named as the 65th best song of 2018 on Pitchfork's year-end list "The 100 Best Songs of 2018".[5]
A live version of the song is featured on K Bye For Now (SWT Live), which was released on December 23, 2019.
Background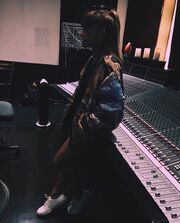 Grande first teased this track back on November 5, 2016, via Instagram.[7]
It was also teased in a scene in the "No Tears Left To Cry" music video which displayed what appears to be the entire track list for the album Sweetener.[8] On July 15, 2018, Grande posted a picture of herself listening to "Sweetener" to her Instagram Story.[9]
On July 17, 2018, the Sweetener album track list was revealed on her Instagram account confirming that the song is featured as the sixth track on the album.[10] On July 21, 2018, a paparazzi leaked a snippet of Grande playing the song in her car, if you listen closely you can hear the word "Sweetener", later that day Grande confirmed it was the snippet.[11][12]
Live performances
Grande debuted "Sweetener" live on August 20, 2018 at The Sweetener Sessions and was a regular part of the setlist of Grande's Sweetener World Tour, which began on March 18, 2019.
Trivia
Lyrics
[Chorus: Ariana Grande & Pharrell Williams]
When life deals us cards
Make everything taste like it is salt (Sheesh, sheesh)
Then you come through like the sweetener you are
To bring the bitter taste to a halt (Sheesh, sheesh)

[Post-Chorus: Ariana Grande & Pharrell Williams]
And then you get it, get it, get it, get it (Ayy)
Hit it, hit it, hit it, hit it (Ayy)
Flip it, flip it, flip it
You make me say oh, oh (Sheesh, sheesh)
Twist it, twist it, twist it, twist it
Mix it and mix it and mix it and mix it
Kiss it, kiss it, kiss it
You make me say oh, oh (Sheesh, sheesh)

[Verse 1: Ariana Grande & Pharrell Williams]
I like the way (Way) you lick the bowl (You lick the bowl) (Sheesh)
Somehow your me- (Me-) -thod touches my soul (Touches my soul) (Sheesh, ayy)
It lifts me up (Up) to heights unknown (Ayy)
So when they ask, "How's life?" I go (Sheesh, sheesh)

[Chorus: Ariana Grande & Pharrell Williams]
When life deals us cards
Make everything taste like it is salt (Sheesh, sheesh)
Then you come through like the sweetener you are
To bring the bitter taste to a halt (Sheesh, sheesh)

[Post-Chorus: Ariana Grande & Pharrell Williams]
And then you get it, get it, get it, get it (Ayy)
Hit it, hit it, hit it, hit it (Ayy)
Flip it, flip it, flip it
You make me say oh, oh (Sheesh, sheesh)
Twist it, twist it, twist it, twist it
Mix it and mix it and mix it and mix it
Kiss it, kiss it, kiss it
You make me say oh, oh (You make me say oh) (Sheesh, sheesh)

[Verse 2: Ariana Grande & Pharrell Williams]
Your mama sent (Sent) us horoscopes (Us horoscopes) (Sheesh)
Had so much fun (Fun) watching them unfold (Watching them unfold) (Sheesh, ayy)
You said she like me, I smiled, I know (Ayy)
So when they ask, "How's life?" I go (Sheesh, sheesh) (Sheesh, sheesh)

[Chorus: Ariana Grande & Pharrell Williams]
When life deals us cards
Make everything taste like it is salt (Sheesh, sheesh)
Then you come through like the sweetener you are
To bring the bitter taste to a halt (Sheesh, sheesh)

[Post-Chorus: Ariana Grande & Pharrell Williams]
And then you get it, get it, get it, get it (Ayy)
Hit it, hit it, hit it, hit it (Ayy)
Flip it, flip it, flip it
You make me say oh, oh (Sheesh, sheesh)
Twist it, twist it, twist it, twist it
Mix it and mix it and mix it and mix it
Kiss it, kiss it, kiss it
You make me say oh, oh (You make me say oh, boy) (Sheesh, sheesh)

[Bridge: Ariana Grande & Pharrell Williams]
And then we lay it back, talk the rest of the night
Things that we can light make me say oh, oh (Oh, oh) (Sheesh, sheesh)
Talk about what you wanna do, whether it's wrong or right
I am followin' you 'cause you make me say oh, oh (Oh, oh) (Sheesh, sheesh)

[Pre-Chorus: Ariana Grande & Pharrell Williams]
(Ayy) Said I don't know what I'd do without you in my life (In my life), it'd be so sour (Sheesh)
(Ayy) I'm hoping that everybody can experience what we have in ours (What we have in ours) (Sheesh)

[Chorus: Ariana Grande & Pharrell Williams]
When life deals us cards
Make everything taste like it is salt (Sheesh, sheesh)
Then you come through like the sweetener you are
To bring the bitter taste to a halt (Sheesh, sheesh)

[Post-Chorus: Ariana Grande & Pharrell Williams]
And then you get it, get it, get it, get it (Ayy)
Hit it, hit it, hit it, hit it (Ayy)
Flip it, flip it, flip it
You make me say oh, oh (Oh, woah, oh) (Sheesh, sheesh)
Twist it, twist it, twist it, twist it
Mix it and mix it and mix it and mix it (Mix it and mix it and mix it and mix, yeah)
Kiss it, kiss it, kiss it
You make me say oh, oh (You make me say oh, babe) (Sheesh, sheesh)

[Outro: Ariana Grande]
Hey, yeah
Oh, yeah
References