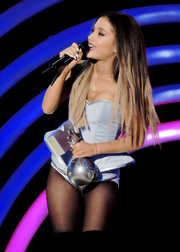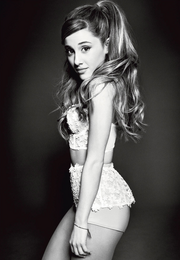 Ariana broke three toes once because she slipped on Ophelia's pee while at a party.
On March 27, 2014 Ariana said she wanted her fanbase to be called "the loves" rather than "Arianators". Since then she frequently tweets to her fans calling them "my loves". [1]
Her second album My Everything, debuted at No. 1 on the US Billboard 200.
She got her wisdom teeth pulled out on April 14, 2014.[2]
Ariana performed in front of President Barack Obama and Michelle Obama on March 6, 2014.[3]
She recorded a song for The Hunger Games: Mockingjay soundtrack with Lorde and Major Lazer called "All My Love."
Her song "Break Free" was originally written for Austin Mahone.
On January, she earned the Favorite Breakout Artist award at the People's Choice Awards 2014.
Ariana's grandfather, Frank Grande, passed away on July 22, 2014 after a long battle with cancer.
In September 2014, Grande participated at the charitable Stand Up to Cancer television program, performing "My Everything" in dedication to her grandfather, who had died from cancer in July.
References