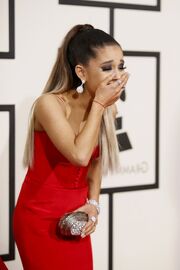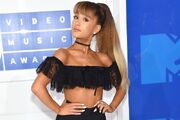 In her MAC 'Viva Glam' campaigne video, 2016, she made a Harry Potter refrence. While sitting in the tiny doll house she says; "It's not much, but it's home.", just like Ron Weasley in "Harry Potter and the Chamber of Secrets".
She released her third studio album, Dangerous Woman, and several songs from the album.
The title track debuted at number 10 on the Billboard Hot 100, making Grande the first person in the history of that chart to have the lead single from each of her first three albums debut in the top 10.
The album debuted at number two on the Billboard 200.
Time named Grande one of the 100 most influential people in the world on their annual list.
Grande appeared in a cameo role in the comedy film Zoolander 2 (2016), starring Ben Stiller and Owen Wilson.
Grande garnered positive reviews, as host of 2016 Saturday Night Live in 2016, for her impressions of various singers.
In August 2016, Grande performed Whitney Houston songs in a tribute to Houston on the season finale of the ABC TV show Greatest Hits.
Grande made a TV commercial for T-Mobile that first aired in October 2016.
She played Penny Pingleton in the December 2016 NBC television broadcast Hairspray Live!.
E! writer Kendall Fisher called her "a feminist hero" in an essay examining Grande's feminist statements.
She joined Madonna to raise funds for orphaned children in Malawi.