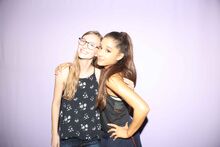 A little about me
I'm a 17 year old girl from Denmark. I've been a fan of Ariana since 2012 when I saw her music video for 'Put Your Hearts Up'. It doesn't feel like 5 years, but it's been over 5 years.
I'm a student so i don't have much spare time, but when I do, I love to draw Ari. I post all of my drawings on my instagram @cutelittlegrande
<3
Facts about me
I love to draw.
I've met Ariana twice, one time in Stockholm and one time in New York.
I've seen the HMT twice and the DWT once.
I'm already saving up for her next tour and I hope to have enough money for meeting her again.
I love Ariana an unhealty amount (haha).
My DW top 5
#1 Be Alright
#2 Dangerous Woman
#3 Knew Better/Forever Boy
#4 Sometimes
#5 Moonlight