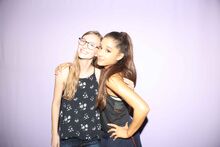 a little about me
Edit
I'm a 18 year old girl from Denmark. I've been a fan of Ariana since 2012 when I saw her music video for 'Put Your Hearts Up'. It doesn't feel like 5 years, but it's been over 5 years.
I'm a student so i don't have much spare time, but when I do, I love to draw Ari. I post all of my drawings on my instagram @cutelittlegrande
<3
facts about me
Edit
I love to draw.
I've met Ariana twice, one time in Stockholm and one time in New York.
I've seen the HMT twice and the DWT once.
I really hope to go to the Sweetener tour but there are some complications :'(
I love Ariana an unhealty amount (haha).
my YT top 5
Edit
Honeymoon Avenue
Tattoed Heart
Daydreamin'
You'll Never Know
Lovin' It
my ME top 5
Edit
Only 1
You Don't Know Me
Hands On Me
Best Mistake
My Everything
my DW top 5
Edit
Be Alright
Dangerous Woman
Knew Better/Forever Boy
Greedy
Moonlight
my SW top 5
Edit
R.E.M
successful
no tears left to cry
get well soon
goodninght n go
my TU,N top 5 (i think, i can't decide)
Edit
NASA
fake smile
buwyg,ib
bad idea
imagine