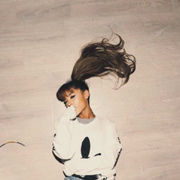 It's summer 2015. I've had a huge conversation about Ariana with one of my best friends. I've never even heard her name before. At this point she's dating Ricky Alvarez, the only other name from this conversation that I remember, and is currently on her The Honeymoon Tour. Victorious and Sam & Cat also featured somewhere in this conversation but it's a bit of a blurred memory. Little do I know that at this point I've heard the songs Problem, Bang Bang, Break Free and One Last Time a hundred times and hadn't made the connection between the name and the artist of these songs. Late 2015 to early 2016 comes around and the same friend and I play a game of guess the song. She plays Focus. At this point I remember our prior conversation but again nothing comes of it and I go back to being oblivious to Ariana Grande and her life. A crime. I know. Late December 2016, post Christmas and I'm in HMV where they have Ariana Grande's new album Dangerous Woman on special offer. Perfect. The memory comes back. I buy the album at the heavily discounted price of £3.99. One of the best decisions I've made in a long time.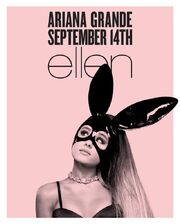 I listened to Dangerous Woman for weeks afterwards. I'd never heard anything like it. Up until around February 2017 I only had Dangerous Woman but then I bought My Everything for £5.99 and again listened to not a lot else other than Ariana Grande. May 23, 2017. I heard about the tragedy in Manchester. I watched One Love Manchester on the TV, fell in love with The Way and discovered Mac Miller's music. From this point I began to check news the about Ariana and also found out about her entire back catalogue and unreleased music. I became genuinely interested in every aspect of her musical career and life. December 31, 2017; the silence. I saw the snippet and then waited for the next four months along with everyone else. April came along with No Tears Left To Cry and everyone was glad. When Sweetener was released on August 17, 2018, I went down to HMV again to buy the album and this time it came with a free Sweetener shopping bag. Who can complain. Tour announcement. UK dates. The Sweetener World Tour was coming to London. I got tickets and took the friend who had got me into Ariana in the first place. She had originally been going to the Dangerous Woman Tour but unfortunately her date at the O2 was cancelled. This was our time. From then it was a waiting game.
February comes around. It's 2019. Thank U, Next is released. Again HMV is my port of call for the album. I couldn't wait to hear this album live. April rolls around once more and I experience the Sweetener World Tour for the first and second time in the comfort of my home via the wonders of YouTube live streaming. Incredible. For the third time we were in prime position; facing the stage head on. August 19, 2019, London. Mac Miller's song Dang! booms through the arena and the crowd goes wild sending a Mexican Wave around the arena for the entirety of the song. We also got to hear Boyfriend live at the show. Thanks to Ariana, I've found friendship in someone else who attended her concert on October 14 at the same venue and discovered someone who even went to the same concert as me.
Obviously this is an extremely shortened history but I don't wish to bore anybody. Hope you enjoyed.
Community content is available under
CC-BY-SA
unless otherwise noted.