Moonlightbutterfly4
Joined: October 16th, 2020
She/Her
bisexual💗💜💙
Hi! I'm Moonlightbutterfly4, aka as Emma. I'm a 14, I'm a big Arianator, and I post a lot on that wiki. Let me know what you think I should write in my profile.
I have another account on Selena Gomez Wiki, called BloodRedMoon2854 https://selenagomez.fandom.com/wiki/User:BloodRedMoon2854
I am fans of/like other artists; Selena Gomez, Madison Beer, Little Mix, Dua Lipa, Lana Del Rey (sometimes), Beyonce, Rihanna, Olivia Rodrigo, Britney Spears,Dove Cameron,BLACKPINK (sometimes) Demi Lovato, Billie Eilish, Mariah Carey (mostly her older music) Camila Cabello,and Taylor Swift, but Ariana is my favorite singer/songwriter/person (Taylor's a close second though). I like female artists more, probably becuase their songs are more relatable/they're more of a role model to me since I'm a girl too. I've tried, but I don't like rap...I love pop music. Nicki's a real queen though (and yes I have listened to queen). I love the arianator community, especially on this wiki. Everyone is so kind, respectful, and supportive.

Let me know more about you on my message wall/blog :)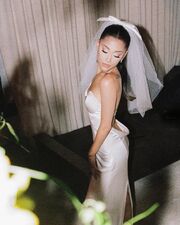 Facts about me: Birthday: August 10th
Zodiac sign: ♌leo (sun sign),♓ pisces (moon sign),♉ taurus (rising sign) (mercury and venus in cancer)
Became an Arianator: October 2019
Joined this wiki: October 2020
Favorite Color: Green (and also Purple and love blues)
Favorite Season: I love all of them lol, but Summer.
Favorite Month: February, August
Favorite Element: Water
MBTI personality type: INFJ
I Have 3 younger siblings
Last Movie/Show I watched: Raya And The Last Dragon (omg sooooooooo obsessed with it, raya's hot and you can't convince me that her and namaari are only friends like come on)
Last Song I listened to: Past Life by selena gomez
What I Ate Last: potato chips lol
Favorite food: Cookies & Cream Ice Cream
Favorite drink: Lemonade
Favorite subjecst: Spanish (Foreign Language), ELA/English, History (American History)
I've never been off the north american continent
I've moved 3 times. but lived in the same state my whole life
I live in the U.S., and have only visited 13 states.

**I'm so happy for Ari and Dalton and can't wait for them to have kids bc they'll be so beautiful**

Shoutouts to:
@SWEETENER GRANDE
@Arianathecloud
@Ariiixdangerouswoman
@SWEETENERGRANDE
@Mizba3bel
@arianathecloud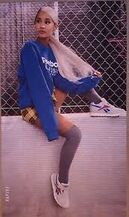 @Kataang4eva
@KartKingdom02
@Tikkifan
@zainabmahmood764
@Maddys World
@Balenciaga Dollz
@Birdgirl22
@Slay3rbae
@Ummmmmm12idk
all arianators and swifties
For being kind and supportive and voting on my polls//commenting on my posts/blogs/message wall

other accounts I use:
@flymetothemoon44 (on glee fandom)
@Nightmaredressedlikeadaydream4 (taylor swift fandom)
@BloodRedMoon44 (sometimes on the Selena Gomez wiki)
@royalflush44 (olivia rodrigo fandom)
as @Moonlightbutterfly4, I am a Content Mod on the Madison Beer Wiki
Thanks for visiting my profile page!❤❤
ily and have a nice morning, afternoon, or evening