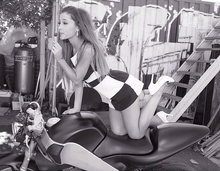 Hi! I am a HUGE Arianator who loves to work on wikis! Ever since Victorious, I have had a growing love (and knowledge) for Ariana. I am also a little bit of a nerd, as I like to edit wikis. I have been working with them since 2011 and am very proficient X11 wiki coding (I have made over ten thousand edits across multiple wikis, with a few of them being Wikia). I also design album covers for Ariana Grande (among other artists), and I make one for every song she has.
Fav pages
Edit
Ariana Grande no explanation needed
Moonlight I am so excited for this album and it will be Ariana's best yet!!!
My Everything because I love this album sooooooo much
Yours Truly cause this is where her musical journey started (let's forget about Put Your Hearts Up)
And pretty much everything else
Top 20 Ariana Songs
Edit
Least favorite song: Research
Top 5 Christmas Songs
Edit
Snow in California
Love is Everything
Top 3 Ariana Remixes
Edit
Break Free - Nate Harrell Remix
Break Free - Jon Electra Remix
Best Mistake - JUSTice Remix
Best Ariana Albums
Edit
Top 15 Artists
Edit
Ariana Grande
Lady Gaga
Meghan Trainor
Taylor Swift
Britney Spears
Tori Kelly
Demi Lovato
Kelly Clarkson
Fifth Harmony
Katy Perry
Jessie J
Lea Michele
Cher Lloyd
Adele
Mariah Carey
Top Albums
Edit
***Still under construction***
Taylor Swift (Taylor Swift)
Blackout (Britney Spears)
The Fame (Lady Gaga)
Fearless (Taylor Swift)
Circus (Britney Spears)
Don't Forget (Demi Lovato)
Good Girl Gone Bad: Reloaded (Rihanna)
I Am...Sasha Fierce (Beyoncé)
One of the Boys (Katy Perry)
Funhouse (P!nk)
Here We Go Again (Demi Lovato)
Speak Now (Taylor Swift)
Animal + Cannibal (Ke$ha)
Pink Friday (Nicki Minaj)
My World 2.0 (Justin Bieber)
Born This Way (Lady Gaga)
Stronger (Kelly Clarkson)
21 (Adele)
Femme Fatale (Britney Spears)
Unbroken (Demi Lovato)
When the Sun Goes Down (Selena Gomez & the Scene)
Who You Are (Jessie J)
Red (Taylor Swift)
Teenage Dream: The Complete Confection (Katy Perry)
Hello My Name Is... (Bridgit Mendler)
Sticks & Stones (Cher Lloyd)
Warrior (Ke$ha)
Pink Friday...Roman Reloaded: the Re-Up (Nicki Minaj)
Yours Truly (Ariana Grande)
Demi (Demi Lovato)
PRISM (Katy Perry)
ARTPOP (Lady Gaga)
Zendaya (Zendaya)
Britney Jean (Britney Spears)
Stars Dance (Selena Gomez)
BEYONCÉ (Beyoncé)
Alive (Jessie J)
My Everything (Ariana Grande)
1989 (Taylor Swift)
The Pinkprint (Nicki Minaj)
Sorry I'm Late (Cher Lloyd)
Sweet Talker (Jessie J)
Louder (Lea Michele)
Me. I Am Mariah...The Elusive Chanteuse
Reclassified (Iggy Azalea)
Sucker (Charli XCX)
Confident (Demi Lovato)
Unbreakable Smile (Tori Kelly)
25 (Adele)
E•MO•TION (Carly Rae Jepsen)
Revival (Selena Gomez)
Title (Meghan Trainor)
Rebel Heart (Madonna)
Reflection (Fifth Harmony)
Piece By Piece (Kelly Clarkson)
Get Weird (Little Mix)
Honeymoon (Lana Del Rey)
Breathe In. Breathe Out. (Hilary Duff)
Delirium (Ellie Goulding)
The Original High (Adam Lambert)
Blue Neighbourhood (Troye Sivan)
Purpose (Justin Bieber)
This Is Acting (Sia)
ANTI (Rihanna)
Community content is available under
CC-BY-SA
unless otherwise noted.